Taillardat furniture – 21st century creativity inspired by 18th century designs
Lovers of the finer things in life who are interested in giving their home a make-over might like to take a look at taillardat.fr. Taillardat is a French firm that designs and makes items of furniture for the luxury sector. This highly-skilled job is carried out by top craftspeople who need to master such diverse tasks as cabinet making, French polishing, gilding and carving.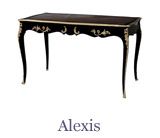 These traditional skills are crucial, given that the company focuses on furniture inspired by French designs from the 1700s and 1800s. This period is well known as the heyday of furniture production in France. Many people will have heard of Louis XV and Louis XVI armchairs. Other styles such as the Marie-Antoinette chest of drawers may be less well known, but are still much-appreciated for their elegant lines.
Taillardat furniture is designed for use in the bedroom, the dining room and the living room. The Alexis model of Louis XV desk pictured below could also be put in pride of place in a study or an entrance hallway.